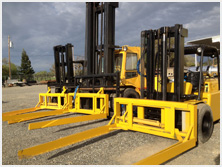 The History Behind the Higginbotham Mfg Inc. (HMI) Hay Squeeze
The Higginbotham Hay Squeeze represents the first major advancement in the last 40 years in the hay bale handling industry! With structural integrity far exceeding the industry standards, clients come to us because they recognize the quality and capability of our advanced hay squeeze. The design changes are subtle, and yet they provide greatly enhanced performance and durability.
Our owner and president, Pat Higginbotham, started the business in 1960 as an owner/operator of Higginbotham Trucking. Specializing in hay hauling serving California, Nevadae and Oregon, his work in trucking led to the awareness of a need to improve upon the existing bale handling equipment of the time, to help ease a highly labor-intensive job. In 1975, HMI was formed, supplying hay squeezes to a growing industry and introducing new equipment designs and capabilities.
Our simple hay squeeze design operates on fewer control motions to achieve maximum performance in hay handling.
The shallow arms of the Higginbotham MFG HMI Hay Squeeze achieve increased grip pressure with a smaller, faster hydraulic ram & less hydraulic pressure..
Our hay squeeze provides reliable clamping with easier entrance and exit via simplified control operations.!
Together, these features mean up to 200% faster cycle times on clamping and releasing each block of hay.
Customized refurbished lift trucks with our hay squeeze attachment can be built to suit your unique needs or specifications – contact us to learn how!
Whether you're looking for a reconditioned lift truck to suit your needs, or just the best available hydraulic hay squeeze attachment, Higginbotham MFGMfg is the go-to choice. We can even customize equipment for your specific needs. When operators experience the performance of our hay squeeze, it will quickly become their go-to choice of hay squeeze equipment.