HMI provides completely reconditioned lift trucks customized with the best hay squeeze attachment available today!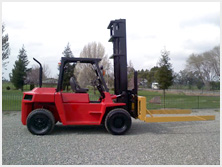 Clients come to us because they recognize the quality and capability of our advanced hay squeeze. When you're looking for a customized lift truck to suit your needs, Higginbotham Mfg is the go-to choice. We offer customized reconditioned forklifts complete with the HMI Hay Squeeze attachment, and we can even customize equipment for your specific needs. When operators experience the performance of our bale handling attachment, it will quickly become their go-to choice of hay handling equipment.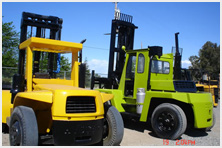 Our simple hay squeeze design operates on fewer control motions to achieve maximum performance in hay handling.
New users find that our hay squeeze has a faster learning curve compared to other hay squeeze devices. With such quick and easy operation, our hay squeeze saves you valuable time to help maximize your work efforts.
The shallow arms of the Higginbotham MFG Hay Squeeze achieve increased grip pressure with a smaller, faster hydraulic ram and less hydraulic pressure, resulting in doubling of production rates.
Our hay squeeze provides reliable clamping with easier entrance and exit via simplified control operations.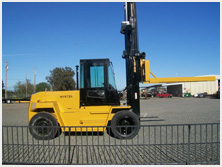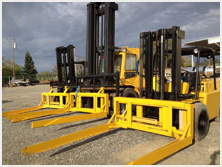 We either stock or can quickly get the following types of forklifts. We can advise on the correct lift truck for your application, and get you a fully refurbished machine ready to run, typically within 2 to 3 weeks, or less.