Our Small Bale Clamp Offers the Same Great Performance in a Smaller Unit,
Perfect for Container Loading or Feed Stores at Half the Cost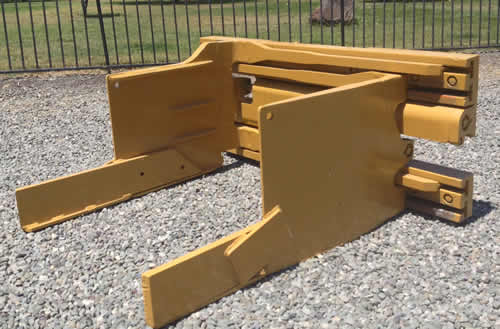 If you run a feed store, feed lot or other operation handling smaller bales or smaller amounts of hay, the HMI Feed Store Hay Bale Clamp is the perfect choice.  It is also the perfect choice for loading Sea / Land Containers or overseas shipping containers with hay or feed.  These are 4 foot reconditioned units which can attach to any Class II or Class III forklift carriage on your existing forklift. This lets you handle pallets size loads of hay without needing the pallet.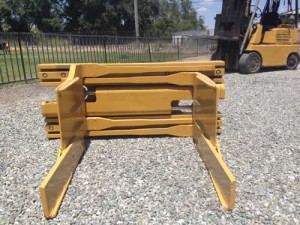 This smaller-sized version of famous HMI hay squeeze offers the same great durability and similar design features, but in a smaller size. You can increase worker productivity, and decreased the risk of Workmen's Comp. claims by reducing or eliminating the manual handling of heavy and awkward hay bales. This bale clamps opens from 2.5 ft to 5 ft, so it will handle anything from a single small bale to a full pallet of hay, without the pallet.
Our Bale handler is easy to use and simple to attach to your existing forklift or lift truck equipment. The smaller size is also better suited to the tighter aisle ways in the typical feed store or the tight clearances associated with container loading.