HMI Makes the Most Durable and Productive Hay Squeeze Attachment Available!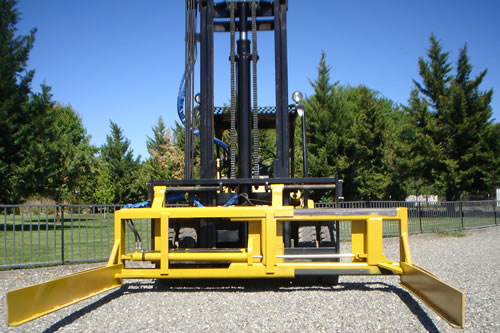 Smart shoppers look around before making a major purchase, and experienced hay haulers know that our 40 years of development means HMI is the best choice for any dairy farmer, hay grower, or hay exporters who are looking for a top quality hay squeeze that will increase productivity and last just about forever.
Whether seeking a hay squeeze attachment for your existing lift, or looking for a customized package to suit your needs, HMI is the go-to choice for hay bale handling equipment.
No other hay bale handler or hay squeeze forklift attachment built today can match the unique design and performance of our advanced hay squeeze.
Our Agile Arms design dramatically increases productivity by reducing required ram stroke per loading cycle. A good operator can load a truck or a barn 200% faster with the HMI hay squeeze, because our arms only need 1" of toe in. Competing hay squeezes typically have 7" of toe in. These means they need a foot of stroke just to take up the toe-in slack. With the HMI hay squeeze, you only need one foot of stroke to clamp the hay, versus competing machines that need an additional foot of stroke per cycle due to that additional arm flex! This translates to productivity gains that will make you more money every day!
Our simple hay squeeze design operates on fewer control motions to achieve maximum performance in hay handling.
Our hay squeeze provides a much easier and more accurate target choice due to the reduced toe-in and arm flex compared to competing bale handlers.
New users find that our hay squeeze has a faster learning curve compared to other hay bale handling attachments. With such quick and easy operation, our hay squeeze saves you valuable time to help maximize your work efforts.
The shallow arms of the Higginbotham Mfg Hay Squeeze achieve increased grip pressure with a smaller, faster hydraulic ram.
Our hay squeeze provides reliable clamping with easier entrance and exit via simplified control operations.
And most important, our top quality product will last longer and costs less than the industry standards!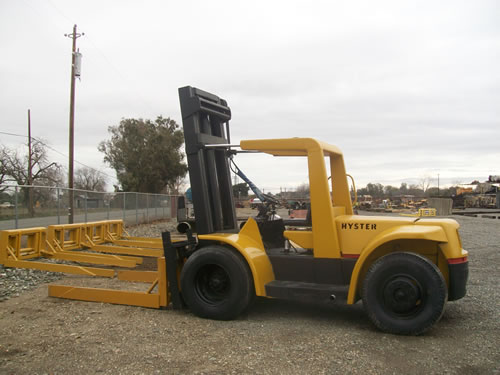 After years of testing in the field, HMI is confident that the structural integrity of our hydraulic hay squeeze forklift attachment substantially exceeds industry standards. It can handle up to two stacked four-ton blocks in capacity, assuming your lift has the capacity for such work.
Don't have a forklift that can handle that? We offer completely refurbished forklifts complete with the Higginbotham Hay Squeeze attachment, and we can even customize equipment for your specific needs.
Or if you run a feed store or smaller operation and need a smaller, less expensive option, check out our reconditioned Feed Store Hay Bale Clamps which will adapt to any small lift truck.
When operators experience the performance of our squeeze, it will quickly become their go-to choice of hay bale handling equipment.